Entrepreneurs are referred to as the category of people who engage in buying and selling of goods and products for the purpose of generating income or steady cash flow, having several streams of income and creation of job opportunities.
Are you an entrepreneur or are you aspiring to be an entrepreneur?
My name is Stephen Akintayo and I am Africa's most sought after investment coach. I am a serial entrepreneur and the convener of UPGRADE SUMMIT formerly Upgrade Conference.
The lock down in Lagos as well as several other states in Nigeria lasted for 4 weeks and a significant number of individuals, companies, businesses as well as entrepreneurs were affected. Some businesses and companies might not be pummeled to a level of restarting but income generated daily, weekly and monthly had degraded and cut short to a minimum of 50%.
Although, the advantages of the lockdown was; it reduced the corona virus spread even if Nigeria lacked availability of adequate test kits and isolation centers. Also, on a second thought, the lockdown was a great deal of opportunities for; family reunion, bonding in relationships where two partners or each member of the family discovers new things about each other. The lockdown was an eye opener for CEO'S, business owners, and every individual who did not realize the value online marketing strategy such as social media marketing and digital marketing.
READ 7 WAYS TO MONEY ONLINE – SOCIAL MEDIA MARKETING
Live shows on social media platforms such as Instagram, became a trend during the lock down. However, whatever has an advantage has a disadvantage. Some of the disadvantages of the lock down includes; hunger, theft/robbery, massive rate of job loss globally, economy instability, social distancing and so on.
According to NCDC (Nigerian Center for Disease Control), the total confirmed cases of the corona virus is 2,950 with only 481 discharged case which is 6.1% out of 100%. The death case is neither reducing. 98 death cases was reported earlier today by the NCDC. In summary, despite every citizen have been enforced to use nose mask, observe social distancing wash their hands frequently; reported positive cases are increasing, death cases are increasing, there is still massive job loss with less than 10% discharged cases.
Did you know?
The one reason why businesses fail is because there's no market need. 60% of people who start small businesses are between the ages of 40 and 60. There are 582 million entrepreneurs in the world. 22.5% of small businesses fail within the first year. Studies show middle-aged men start the most successful businesses.
The Upgrade Summit is an online conference which is organized for the purpose of sharing of valuable knowledge to entrepreneurs worldwide with the aim of building the global economy as well as creating job opportunities for people to be able to generate income for themselves despite the pandemic crises.
The Upgrade Summit was formally Upgrade Conference, held in Lagos Nigeria. But, due to the enforcement of social distancing which will aid to reduce the positive cases and spread of the corona virus, it was recently changed to Upgrade Summit which covers a population of the people in the world globally. The speakers are delighted to share entrepreneurial skills, strategies and knowledge on how to be become a better entrepreneur as well as how to grow your business to a multi-million dollar company. Some of the speakers include;
1. Stephen Akintayo
GMD GtextGlobal
Speaking on – 6 Post-Covid Profitable Online Business Opportunities.
2. Keynote Speaker- Ifie Sekibo, GMD, Heritage Bank.
Speaking on – Breaking the Limit of Funding your Idea"
3. Olumide Emmanuel –
Speaking on – How to balance Spirituality with Business in this era.
4. Bisi Akintayo
Speaking on – How to thrive in e-commerce exportation
5. Tonye Wokoma
Speaking on – Woman, health is wealth
6. Chelsea Currency
Speaking on – The pains/ gains of the Nigerian Movie/entertainment industry
7. Pat Obilor, Author (Life of a Media Girl and #31 Media Hacks)
Speaking on – Starter pack to becoming a Media Personality
8. Jim Iyke
Speaking on – Building and Monetizing Your Personal Brand.
9. Tope Mark Odigie
Speaking on – Transforming your talents/skills to wealth after Covid19
10. Ebuka Anichebe
Speaking on –  Leveraging on Technology to start your business with zero capital
11. Woli Agba
Speaking on – Drama as a tool of pleasure in challenging times.
12. Olusegun Akanji
Speaking on – Strategy to Negotiate Business loans with your Bank, Post-Covid19.
13. Frank Donga
Speaking on – How to thrive in entertainment and Comedy: post-Covid19 depression.
14. Dr Ope Banwo
Speaking on – Strategies on How To  EARN While You LEARN During and After Covid19
15. Tricia Famoriyo
Speaking on – How to move your business and career to the next level.
16. Frank Osodi
Speaking on – Fashion today, stepping up the game.
17. David Imonitie.
Speaking on – How to make 8 figures through network marketing using digital media.
18. Debo Onafowora
MD BIC Farms
Speaking on – Scaling the Agro Industry Post- COVID.
I hope you will be delighted to be part of this.
REGISTER TO BE A PARTICIPANT FOR UPGRADE SUMMIT NOW
However, the Upgrade Summit is not only all about talk! Talk! Talk! There are amazing prices to be won. Ginido is giving away 450,000 Naira worth of wallet funding to buy airtime, data, pay electricity bills, subscribe for; DSTV, GOTV and Startimes and many more.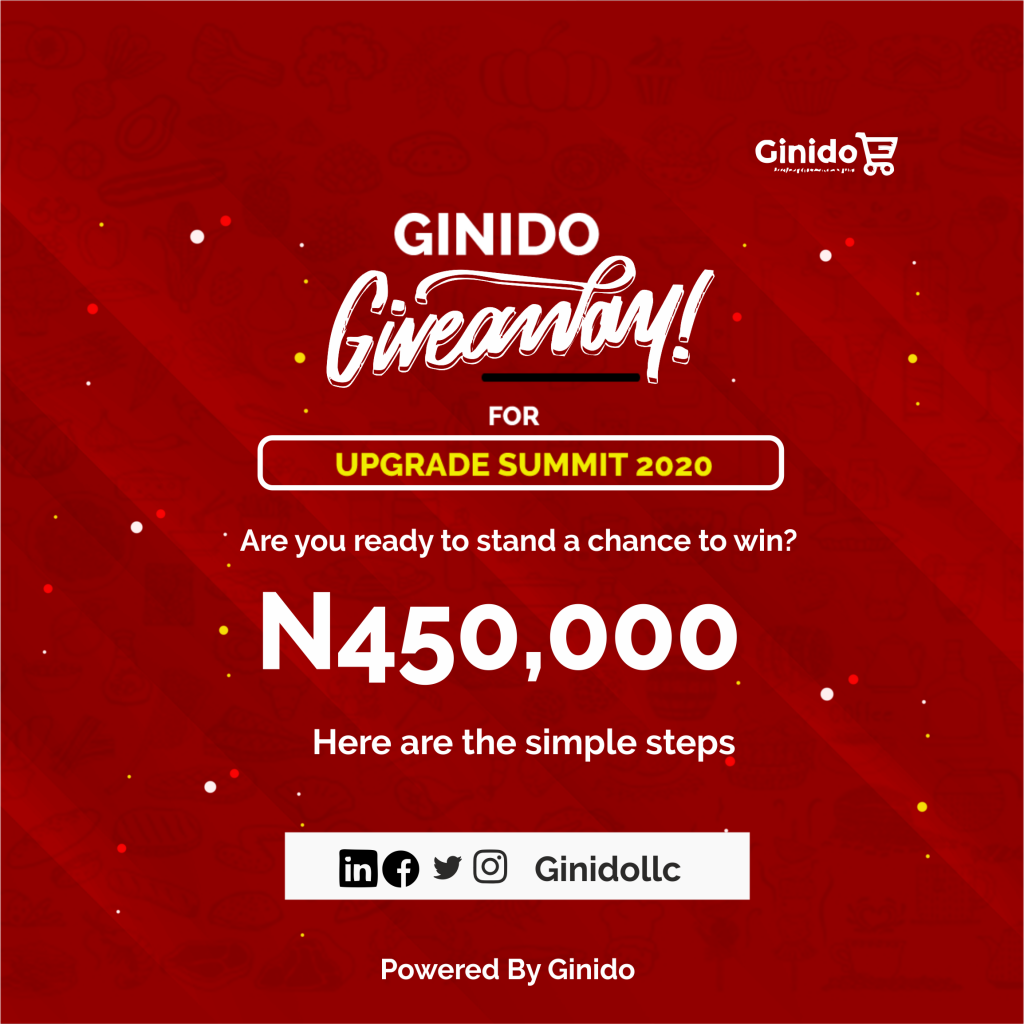 Don't you want to stand a chance to win?
VISIT GINIDO ON INSTAGRAM RIGHT AWAY
Nevertheless, entrepreneurs' maybe failures as starters but consistency and character can take you to the climax. You may either be an entrepreneur or not remember that – "Your time is limited, so don't waste it living someone else's life. Don't be trapped by dogma". Steve Jobs, Co-founder, CEO, Chairman Apple Inc. I hope you have registered as a participant of the Upgrade summit?
I look forward to receive you.
Also, share your opinions with other SA Eagles in the comment section.